I just opened up SkyWest online and lookie what I see!!
Congratulations to Captain Jeffery Winkler on 30 Years!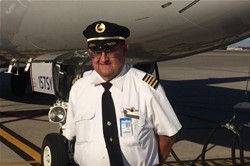 Congratulations to DEN ERJ Captain Jeffery Winkler, celebrating 30 years of dedicated service at SkyWest Airlines!
Captain Winkler started his SkyWest career flying the "mighty Metro" in St. George, Utah. Before joining SkyWest, he gained experience flying C-130s in the Air Force Reserve. He later went on to work in Denver flying the Metro 3, eventually leading him to SGU.
About deciding to fly with SkyWest 30 years ago, Captain Winkler said, "At the time, I had done some interviews. After I got to SkyWest, an old memory came to me from a KC-135 driver who told me to start with a small carrier and hope it grows. I had a sense that was going to happen here, so I blew everything else off and decided to stick around. I look back on it and wonder, how did I get so lucky!"
What is it that Captain Winkler enjoys most about SkyWest? "The best thing is being with a carrier that makes money all the time and having few worries." He continued, "I think I will stick around another five."

When not working, Captain Winkler enjoys running his airplane leasing business and "putting around" in his 1948 Cessna 140.
Thank you, Captain Winkler for the many great years you have contributed. Here's to many more!