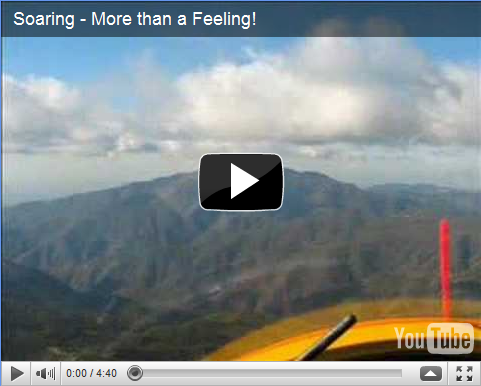 Take a flight with us and experience the Joy Of Soaring!



You can also share the experience with another passenger in our Schwiezer 2-32 glider!





Gift Certificates Available





Introductory, orientation flights are offered for people of all ages who want to experience the Joy of Soaring, to fly without an engine - like a hawk. We often follow them - because they're always in the best lift! You'll be accompanied by one of our FAA Commercially Rated Pilots and you'll be able to spend your time enjoying what every glider pilot lives for!




Checkout our Youth Program.

Did you know that 14 year old Students Pilots who meet the requirements and have the authorization from an FAA Certificated Flight Instructor, Glider can Solo a Glider? That's right, the FAA recognizes that young people who apply themselves and recieve the appropriate training and exhibit the skills and judgment to do so can fly a glider by themselves 2 before they cn drive a car alone.

LESC wants to foster this and has created a Youth Program where young pilots can earn while they learn. For each day they work the line, helping other pilots launch, recover and move thier gliders on the airport, the student will earn a free lesson and tow.
What's New at LESC
winter flying
By Ted Johnson, Sunday, December 10, 2017
LESC Members;
I noticed that other than Cypress flyers, there were few people flying today. Is the poor turnout these days because you are looking at a poor soaring forecast? In the winter, we can get good lift from convergence, ridge lift, and wave. Anybody could see that the sky was overcast today, and one might expect that there wouldnt be much flying going on today. But the people who came out were rewarded by long flights. Ralph stayed up in the 1-26 until he decided to come down for lunch. After lunch he went back up until it was time for him to go home. One of the Cypress members did the same in their 1-34. If you are deciding when to fly based on the soaring forecast, you will miss out on a lot of flying in the winter.
Another issue to keep in mind is that it is expensive to rent real estate at Lake Elsinore. We need to get more people flying in order to keep the lights on at Elsinore. Keep in mind the old adage "use it or lose it". If members are not flying at Elsinore, we will have to find some cheaper real estate for our operations, and nothing would be as good, or as convenient as what we have now.
membership meeting
By Ted Johnson, Friday, December 01, 2017
Important Membership Meeting Sat Dec 2, 11 AM
Its time for voting for the executive board and administrative positions.
winch clinic
By Ted Johnson, Friday, December 01, 2017
AGCSC Winch Clinic. March 9, 10, 11, or April 6, 7, 8. Jacumba. Ralph Strahm is the LESC contact.
LESC's Newest Glider Pilots
By Mike Havener, Saturday, November 18, 2017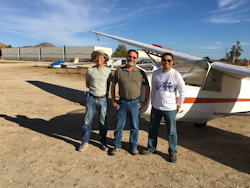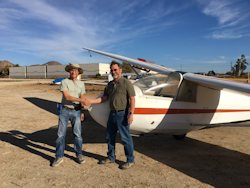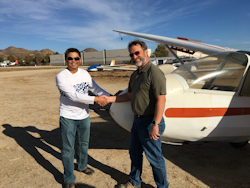 Congratulations to Loc Pham for becoming a Private Pilot, Glider and Bill Wright for adding a Glider rating to his Airplane (SEL) Private Pilot license!
Both of them have worked hard to achieve thier goal. A lot of work and dedication went into making this happen. Now they can now enjoy the fruits of thier labor and come out for some fun flying.
Job well done guys!

Review Class For Written Exam
By Ted Johnson, Wednesday, November 15, 2017
This may be of interest for people preparing for written exams. Joe Scarcella (Cypress instructor and DPE) is an instructor for these review sessions. He sent me this email for upcoming sessions:
Hi Ted,
As I am an instructor for Aviation Seminars, I am teaching the private and commercial pilot test preparation course on Nov. 18 and 19th Ontario, CA. and Dec 2 and 3 Redlands Airport, Dec 16 and 17 Redlands Airport, Dec. 9 and 10 Van Nuys, and again, January 6 and 7Redlands Airport.
The seminars are two days long, starting on Sat ending on Sun from 0800-1700. All supplements and materials for test are included in the course, not to mention, they have online test to assess one's performance and readiness for the written. Most students are getting well over 85% on the exam. This course is also good for refresher which is considerably cheaper. If you let Aviation Seminars know you are from the Glider club, there is a discounted rate for you, Promo Code 7462. They will need to register through Aviation Seminars. Visit https://www.aviationseminars.com/. Contact them and ask for the owner, Dave Butler and he will handling the processing for glider students, again, using the Promo Code 7462. Endorsements for the written are given on completion of the course.
I very much endorse this program as I have seen it first hand as a student and teacher. Let's get these test out of the way. Eye of the tiger. My hopes are to promote the glider community courses via Aviation Seminars as I know the ground review for the test prep can be very challenging for students. If it helps, let me know.
Should you be interested, let me know. Best to all, Joe