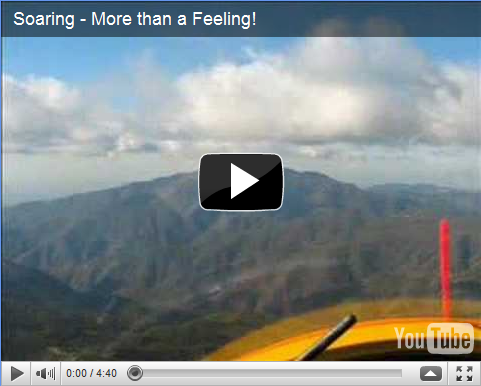 Take a flight with us and experience the Joy Of Soaring!



You can also share the experience with another passenger in our Schweizer 2-32 glider!





Gift Certificates Available





Introductory, orientation flights are offered for people of all ages who want to experience the Joy of Soaring, to fly without an engine - like a hawk. We often follow them - because they're always in the best lift! You'll be accompanied by one of our FAA Commercially Rated Pilots and you'll be able to spend your time enjoying what every glider pilot lives for!






LESC Members can fly our 2-32.



The 2-32 is a 17-meter sailplane and was once the world's highest-performance production multi-seater, and has been a prolific record-setter. In the late 1960's and through the 1970''s the design held many world and national records for speed over 100, 300 and 500 km courses, as well as a variety of distance, out-and-return and altitude records for both men and women.

Few of these gliders were produced, which makes them quite valuable and not generally available for use by Glider Pilots. However, LESC's Training Program makes this unique glider available to Members who successfully complete the program and qualify to fly this magnificent soaring icon.


Checkout our Youth Program.

Did you know that 14 year old Students Pilots who meet the requirements and have the authorization from an FAA Certificated Flight Instructor, Glider can Solo a Glider? That's right, the FAA recognizes that young people who apply themselves and receive the appropriate training and exhibit the skills and judgment to do so can fly a glider by themselves 2 before they can drive a car alone.

LESC wants to foster this and has created a Youth Program where young pilots can earn while they learn. For each day they work the line, helping other pilots launch, recover and move their gliders on the airport, the student will earn a free lesson and tow.
What's New at LESC
Sunday, February 25, 2018 Flight Operations Canceled
By Dave Bowden, Sunday, February 25, 2018
With no one on the schedule today I will not be coming out to tow.
Flying 2-24-2018
By Ted Johnson, Saturday, February 24, 2018
Despite the seemingly mild conditions and gentle wind from the NW straight down the runway, high barometric pressure and "poor" soaring forecast, today was actually a pretty good day for flying. I saw crows circling up in the bowl, and Gary towed me to the exact spot, in the 1-26. I got off after a 3K tow, and found weak bumps of what seemed like ridge lift. That kept me up for a while, then I went further west and found a weak thermal giving me 2-up. I circled and adjusted, and tightened my circles, and the 2-up gradually rose to 6-up, lifting me up to 7000 ft. I tooled around for 1 1/2 hours, then had to come down because I was getting cold. After diving back down with full spoilers to 3000 ft, I was finding weak lift everywhere. I had to keep the spoilers on to get down. It was fun.
Flight Of The Day!
By Bob Bell, Thursday, February 08, 2018
| | |
| --- | --- |
| Date: | 02/08/2018 |
| Pilot: | Allen Waycott |
| Glider: | N2488W |
| Description: | For an otherwise calm day Allen and I stayed up for over an hour in very good ridge lift. It extended out from the towers to the south and may have had a weak wave component. Like Forrest Gump and his box of chocolates, you never know what you're going to get! |
winter flying
By Ted Johnson, Sunday, December 10, 2017
LESC Members;
I noticed that other than Cypress flyers, there were few people flying today. Is the poor turnout these days because you are looking at a poor soaring forecast? In the winter, we can get good lift from convergence, ridge lift, and wave. Anybody could see that the sky was overcast today, and one might expect that there wouldnt be much flying going on today. But the people who came out were rewarded by long flights. Ralph stayed up in the 1-26 until he decided to come down for lunch. After lunch he went back up until it was time for him to go home. One of the Cypress members did the same in their 1-34. If you are deciding when to fly based on the soaring forecast, you will miss out on a lot of flying in the winter.
Another issue to keep in mind is that it is expensive to rent real estate at Lake Elsinore. We need to get more people flying in order to keep the lights on at Elsinore. Keep in mind the old adage "use it or lose it". If members are not flying at Elsinore, we will have to find some cheaper real estate for our operations, and nothing would be as good, or as convenient as what we have now.
membership meeting
By Ted Johnson, Friday, December 01, 2017
Important Membership Meeting Sat Dec 2, 11 AM
Its time for voting for the executive board and administrative positions.
winch clinic
By Ted Johnson, Friday, December 01, 2017
AGCSC Winch Clinic. March 9, 10, 11, or April 6, 7, 8. Jacumba. Ralph Strahm is the LESC contact.